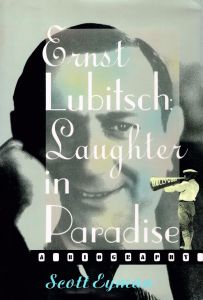 ERNST LUBITSCH: LAUGHTER IN PARADISE, A BIOGRAPHY (1993) Scott Eyman
"None of us thought we were making anything but entertainment for the moment. Only Ernst Lubitsch knew we were making art." John Ford.
This tribute to one of the cinema's greatest artists by one of its greatest artists is unique testament to the respect in which Ernst Lubitsch was held by his contemporaries—a respect that continues to this day.
When movie buffs speak of "the Lubitsch touch," they refer to a sense of style and taste, humor and humanity, that defined the films of one of Hollywood's all-time great directors. In the history of the medium, no one has ever quite equaled his unique talent.
In this first ever full-length biography of Lubitsch, undeniably one of the most important and influential film directors and artists of all time, critic and biographer Scott Eyman examines not just the films Lubitsch created, but explores as well the life of the man, a life full of both great successes and overwhelming insecurities. The result is a fascinating look at a man and an era—Hollywood's Golden Age.
Born in Berlin and trained first in the German theater, Lubitsch made the transfer to film quickly, as well as his move from actor to director. Transported to Hollywood in the 1920s with the help of Mary Pickford, Lubitsch brought with him a level of sophistication and subtlety previously unknown to American movie audiences, especially when it involved the cinematic treatment of sex. In the world Lubitsch created by films such as Love, Parade, Trouble in Paradise , and The Merry Widow, sex was a given, an automatic part of the social contract, a game whose rules were understood by all parties. He immediately made his mark on the fledgling industry and was quickly established as a director of unique quality and distinction.
Lubitsch's accomplishments as a filmmaker were many and significant: In films such as The Merry Widow he virtually created the movie musical, and in the process greatly helped to establish the careers of Jeanette MacDonald and Maurice Chevalier. In wickedly sophisticated films such as Trouble in Paradise and Design for Living , Lubitsch enchanted audiences with his unique "touch," creating a world of fantasy in which men are tall and handsome (unlike Lubitsch himself) and humorously adept at getting women into bed, and where all the women are beautiful and charming and capable of giving as well as receiving love. He revived the flagging career of Marlene Dietrich and, in Ninotchka, created Greta Garbo's most successful film.
He became the Production Head of Paramount Pictures, an accomplishment unique in an industry that traditionally preferred that the actual filmmakers have no say in running the business.
Written with the cooperation of an extraordinary ensemble of eyewitnesses, and unprecedented access to the files of Paramount Pictures, Ernst Lubitsch: Laughter in Paradise is a biography as rich and diverse as its subject. The result is a book sure to please film buffs of all stripes, and to especially delight those who champion Lubitsch as the greatest filmmaker ever. (Book Cover)
TABLE OF CONTENTS
Prologue
Laughter in Paradise
Epilogue
Acknowledgements
Filmography
Bibliography
Index