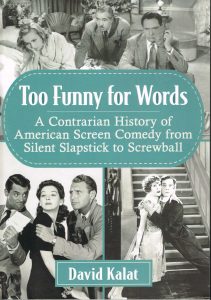 TOO FUNNY FOR WORDS, A Contrarian History of American Screen Comedy from Silent Slapstick to Screwball (2019) David Kalat
American silent film comedies were dominated by sight gags, stunts and comic violence. With the advent of sound, comedies in the 1930s were a riot of runaway heiresses and fast-talking screwballs. It was more than a technological pivot—the first feature-length sound film,
The Jazz Singer (1927) changed Hollywood. Lost in the discussion of that transition is the overlap between the two genres. Charlie Chaplin, Buster Keaton and Harold Lloyd kept slapstick alive well into the sound era. Screwball directors like Leo McCarey, Frank Capra and Ernst Lubitsch got their starts in silent comedy.
From Chaplin's tramp to the witty repartee of His Girl Friday (1940), this book chronicles the rise of silent comedy and its evolution into screwball—two flavors of the same genre—through the works of Mack Sennett, Roscoe Arbuckle, Harry Langdon and others. (Book Cover)
Mr. Kalat's writing is thought provoking and engaging and can be supplemented by his outstanding film audio commentaries, particularly on the Criterion DVD of the screwball masterpiece To Be or Not to Be (1942). Aliece Pickett
TABLE OF CONTENTS
Acknowledgments
Introduction: The History of the History of Silent Comedy
Hey, Down in Front!
Mack Daddy, Daddy Mack
Irony and the Fat Man
First Things First, but Not Necessarily in That Order


Slapstick While Black

@RealCharlieChaplin

Cruel and Unusual

Life, Police and Trouble

Mutual Appreciation Society

Serious Business

The Other Chaplin

Buster Keaton vs. the History of Comedy

Out the Window Backwards

Eureka

What, What No Beer?

Keaton International

Fake News

Why Don't You Say Something to Help Me?

Harold Lloyd 101

Mustache, Glasses and Suit

The Sin of Harold Lloyd

When Harold Met Lucy

Lucy vs. Lucille Ball

Artists and Models

Duck Soup

Eat Your Apple After Now

The Back of Joan Crawford's Head

Downton Valley, or Ruggles Conquers the West

The $30,000 Question

F. W. Murnau's Comedy Masterpiece

Jean, Clara, Bombshell and It

Miscasting for Fun and Profit

Girls! Girls! Girls!

I Won't Back Down

The Unexpected Comedy Stylings of Alfred Hitchcock
Mr. and Mrs. Smith

Divorce American Style

Magic Pixie Dream Grampa

Ernst Lubitsch Forgives Himself

Sturges Before Sturges

The Trouble with Mitchell

Ginger Rogers, Sad Saks of Fifth Ave.

The Careless Cinderella

Katharine Hepburn vs. Herself

Me vs. Capra

Preston Sturges Origin Story

The Love Song of Captain McGloo

Sturges After Sturges (or, the Keystone Pipeline)

Meet Charley Chase
Modern Love

Meet Cary Grant

The Worst People in the World

Slut Fabulous
Filmography
Notes


Bibliography
Index