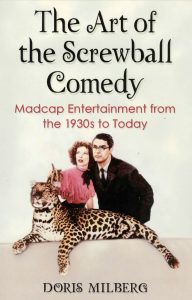 THE ART OF THE SCREWBALL COMEDY (2013) Doris Milberg
Part One of this entertaining exploration of screwball comedies and their later offspring begins in the mid–1930s discussing the careers of popular stars such as Cary Grant and Carole Lombard and well-known supporting players like Walter Connally and Ralph Bellamy (also Asta the dog, top animal star of the 1930s!). Writers and directors are given their due: Frank Capra, Howard Hawks and Preston Sturges, just to name a few.
Part Two, the meat of the book, takes an in-depth look at the films, from the genre's inception (1934's It Happened One Night) to the recent 2003 Down with Love, and the stars that appear in them—Clark Gable, Claudette Colbert, Julia Roberts, Richard Gere—ending with some thoughts about the future. (Book Cover)
Contents
Preface
Part I: The Essence of Screwball
One. Cut and Print: The Anatomy of Screwball
Two. Screwball Personnel: The Stars
Three. Screwball Personnel: They Also Serve
Four. Screwball Personnel: Behind the Scenes
Part II: The Sub-Genres of Screwball
Five. Screwball Guys and Gals: Heirs and Heiresses
Six. Screwball Guys and Gals: The Working Stiffs
Seven. Screwball Cinderellas and Cinderfellas
Eight. Show Business Screwballs
Nine. The Screwball Literati: Anything for a Story
Ten. Love on the Rocks: Marital ­Mix-­Ups, Screwball Style
Eleven. William and Myrna: Nick and Nora et al.
Twelve. Mixing Murder and Mayhem: Screwball Comedy Mysteries
Thirteen. Screwball Families: The Mamas, the Papas, the Kids
Fourteen. Morale Boosters: Screwball Goes to War
Fifteen. Screwball Lives On: Part One
Sixteen. Screwball Lives On: Part Two
Epilogue
Bibliography
Index