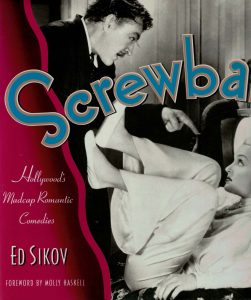 SCREWBALL, HOLLYWOOD'S MADCAP ROMANTIC COMEDIES (1989) Ed Sikov
The screwball comedies that flourished in the decade between the onset of the Depression and the end of World War II have left a mark on our memories far greater than could have been expected from their impact at the time. Ed Sikov's account has captured this fascinating period both in terms of its sensuous surface and its provocative subtexts. He has succeeded in bringing a scintillating period in our cultural history back to glittering life"—from the foreword by Molly Haskell.
Katharine Hepburn chases her pet leopard, and Cary Grant, through the jungles of Connecticut; Carole Lombard turns hobo William Powell into Godfrey, her butler and husband; Con-lady Barbara Stanwyck tortures millionaire Henry Fonda into hating her, and then marrying her. Screwball comedies tell one mad, illogical truth: mutual hatred is no reason to give up on love.
Irreverent, elegant, sublime, and ridiculous, the screwball films of the 1930s and 1940s are a timeless collision of high wit and low slapstick, in which the players used street-smart repartee to turn good taste into bad manners. For one breathtaking moment Hollywood produced a succession of unforgettable classics: His Girl Friday, Bringing Up Baby, My Man Godfrey, The Lady Eve, The Thin Man, and Twentieth Century. They featured wacky heiresses, boss-ladies, and Cinderellas, played by Claudette Colbert, Rosalind Russell, and Jean Arthur.
In Screwball, the first lavishly illustrated tribute to the genre, writer, and critic Ed Sikov examines all the major, and many of the minor, comedies in search of what makes screwball screwball. With humor, originality, and a keen eye for the twin themes of love and money, Sikov illuminates the inimitable screwball style.
With more than 240 pictures printed in striking duotone, Screwball brings back the dialogue, the sets, the lighting, and the very special rendering of the battle of the sexes called love. It is a book as enchanting, exhilarating, and provocative as the movies it celebrates.
TABLE OF CONTENTS
Part One Marriage of Moderns: The Pleasure of Screwball Pain
Part Two Cents and Sensibility: The Uses of Screwball Cash
Part Three Lying, Cheating, And Changing Sex: The Virtue of Deceit
Acknowledgments
Photo credits
Index