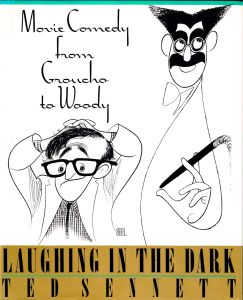 LAUGHING IN THE DARK, Movie Comedy from Groucho to Woody (1992) Ted Sennett
Laughing in the Dark salutes Hollywood comedies, from the early days of sound to the current era of big- budget blockbusters. Ted Senate is one of the liveliest, most knowledgeable, and well-respected writers on the cinema today. His new book is a decade-by-decade tour of silver screen history. The story begins with such icons of the 1930s as W. C. Fields, Mae West, and the Marx brothers, and continues with the unforgettable comedies and "common- folk" films of director Frank Capra.
In the 1940s, Laughing in the Dark celebrates such beloved clowns as Bob Hope, as well as multitalented jokesters Red Skelton and Danny Kaye. Sennett recalls movies that were popular before and during World War II, among them His Girl Friday and Road movies of Bob Hope and Bing Crosby.
A host of new faces emerged in the fifties, including Danny Thomas, Jerry Lewis, and Judy Holliday Audrey Hepburn won an Oscar for the effervescent romantic comedy Roman Holiday. And in that evergreen favorite, Some Like It Hot, like hot, Jack Lemmon and Tony Curtis teamed with Marilyn Monroe.
The sixties featured Doris Day, the wry Walter Matthau, and other newcomers. A nation in transition enjoyed a variety of entertainments, from traditional comedies such as The Apartment with Jack Lemmon and Shirley MacLaine two such unconventional films as Dr. Strangelove and The Graduate.
Ted Sennett's sweeping narrative continues with the high points of the seventies and eighties, including the wonderfully irreverent movies of Woody Allen, Neil Simon, Mel Brooks, and others.
Traversing sound stage and studio lot, Laughing in the Dark blends celebrity antidotes with production histories, and shows how landmark comedies influenced producers, directors, and actors for years to come. America's most distinguished film writer also describes how the events and values of the 20th century found a humorous outlet on the screen. Best of all, from Groucho to Woody, Laughing in the Dark summons up the funniest moments in film history, and invites the reader to laugh along.
Over 100 black and white photos and 16 pages of color art illustrate this handsome volume.
TABLE OF CONTENTS
Acknowledgments
Prologue
The Silent Years of Laughter
Part 1 GETTING AWAY FROM IT ALL
Movie Comedy in the Thirties
The Early Sound Years: Slapstick and Sophistication
Comedy Icons of the Thirties
Love in Hard Times: Romantic and Marital Comedy in the Thirties
Pure Brass: Spoofs, Satires, and Farces
The Common Folk
Part 2 KEEP 'EM LAUGHING
Movie Comedy in the Forties
The New Comedy Faces
Working Girls and Boss Ladies: Romantic Comedy in the Forties
Wedded Bliss: Marital Comedy in the Forties
Footlights to Film
The Great Originals
Back Home Again
Part 3 MARKING TIME
Movie Comedy of the Fifties
Jerry and Judy
The Graying of Romance: Romantic and Marital Comedy in the Fifties
Tongue-In-Cheek: Satires and Farces in the Fifties
Part 4 A TURNING POINT
Movie Comedy in the Sixties
All Kinds of Love: Romantic Comedy in the Sixties
Across the Parlor and into the Bedroom: Marital and Domestic Comedy in the Sixties
Dark Laughter: Black Comedies and Rude Farces
The Old Guard—Plus Wood and Mel
Part 5 DOWN WITH EVERYTHING
Movie Comedy in the Seventies
Offbeat Love: Romantic Comedy in the Seventies
Don't Send Flowers: Marital Comedy in the Seventies
Nose-Thumbing for Fun and Profit: Blacker Comedies and Ruder Farces
Woody Allen in the Seventies
Part 6 THE HUMAN SIDE
Movie Comedy in the Eighties
Love Isn't All: Romantic and Marital Comedy in the Eighties
People Are Funny: Human Comedy in the Eighties
A Crazy World: Knockabout Farces and Satires
Woody Allen in the Eighties
Coda
Photo Credits
Selected Bibliography
Index