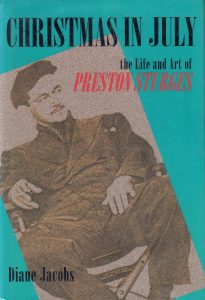 CHRISTMAS IN JULY, THE LIFE AND ART OF PRESTON STURGES (1992) Diane Jacobs
In this first critical biography of Preston Sturges, Diane Jacobs brings to life the great comic filmmaker whose career Andrew Sarris described as "one of the most brilliant and bizarre bursts of creation in the history of the American cinema." Jacobs uses letters and manuscripts never before revealed, as well as interviews with people who knew Sturges–including three of his wives–to portray this fascinating, contradictory man. In addition to discussing his major films, she also examines heretofore unknown work and shows that Sturges was highly creative even near the end of his life, a time when many believed he had lost his touch.
Sturges secured his place in film history as the creator of such classic films as The Lady Eve, Sullivan's Travels, and The Palm Beach Story. In 1939 he became the first screenwriter to win the right to direct his own script–the result was the Oscar-winning The Great McGinty. Creator of Unfaithfully Yours, The Miracle of Morgan's Creek, and Hail the Conquering Hero, he was the third highest-paid man in the United States by the late 1940s. He owned a swank Hollywood restaurant and was known as an ebullient raconteur as well as a world-famous filmmaker. A little over a decade later, Sturges died in New York, impoverished, and rejected by Hollywood.
The euphoria of success, the fitfulness of luck, the promise and poignancy of the American Dream–the themes of Sturges's work also marked the man. In chronicling his remarkable career, Diane Jacobs illuminates the contributions and complexities of a great American film artist. (Book Cover)
TABLE OF CONTENTS
Acknowledgements
Introduction
Part I Sentimental Education
Part II Child of Manhattan
Part III Westward Ho!
Part IV The Power and the Glory
Part V Good-bye to All That
Part VI Recapture
Postscript
Notes
Works of Preston Sturges
Select Bibliography
Index