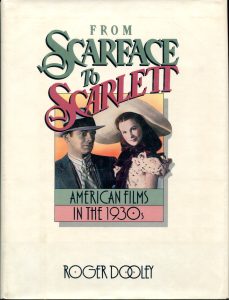 FROM SCARFACE TO SCARLETT, AMERICAN FILMS OF THE 1930s (1979) Roger Dooley
This is the definitive, all-inclusive history of American films in the 1930s, the golden decade of the silver screen.
In this lively, literate showcase of masterpieces from Hollywood's heyday, Roger Dooley discusses the films, the genres and trends, the stars and studios, the directors and the myths that contributed to America's daydreams during the bleakest hours of the depression, 1930-1939.
"These ten phenomenal years seem more incredible as they recede in time", writes Dooley in his prologue. "Granted that movies were then a giant industry, whose aim was to make the biggest profit by pleasing the widest public, the wonder is how many really fine pictures were produced within, or in spite of, the system. Even the most routine "B" films still show an unselfconscious verve, pace and vitality, a crisp professionalism all too seldom seen today.
"Indeed, never in the theatrical history was such an abundance and variety of acting, writing, directing and designing skills concentrated in one place. However mercenary their motives, the movies' moguls played Medicis to many of the finest artists of their time."
One of the most mammoth books ever written about Hollywood, From Scarface to Scarlett is the first to examine the film output of the '30s in its entirety–5000 films, of which the author has seen over 3000 and read reviews of all the others! By dividing them into fifty distinct genres, he covers such well-known categories as gangster and prison films, horror and spy movies, musicals and screwball comedies as well as less recognized groups as films about kept women, campus life, religious figures, and sections on millionaires, doctors, lawyers and journalists. Included is a rare view of screen censorship through actual excerpts from the famous 1930s Motion Picture Production Code.
The book concludes with the chapter on films released in 1939, a year considered by many as the dazzling zenith Hollywood was never again to attain. The year in which exactly 365 feature films were released included The Wizard of Oz, Dark Victory, Gunga Din, Goodbye Mr. Chips, Destry Rides Again, Ninotchka, Babes in Arms, Wuthering Heights, Mr. Smith Goes to Washington, Intermezzo, The Women, and in December 1939, as the culminating cinematic event of the decade, Gone With the Wind.
Roger Dooley's writing is as filled with fun and anecdotes as it is with impeccable scholarship. His blending of astute film criticism, a wealth of facts and trivia about behind-the-scenes particulars, and the perspective of a social historian make this a work that will be indispensable to film libraries, collectors, and scholars, and a delight for nostalgia and movie buffs—a monumental work that will never be supplanted as the essential volume on the greatest film era and its unforgettable legacy. (Book Cover)
TABLE OF CONTENTS
Prologue
Why the 30s? Or, No, No, Nostalgia
1. "Just Picture a Penthouse", Love Among the Millionaires
2. The Plot Thickens, Intrigue, Boudoir and Otherwise
3. Remembrance of Things Past, Wistful Glances Back
4. Long Ago and Far Away, Escapes Still Further Into the Past
5. The White Man's Burden, Imperialism, Hollywood Style
6. 'Nice Work If You Can Get It", Occupational Hazards
7. Crime and Punishment, Cops and Robbers
8. Blood Will Tell, The Nonprofessionals
9. The Light Fantastic, Flights of Fancy, Musical and Otherwise
10. The Show Must Go On, Behind the Scenes
11. People Like Us, Everyday Folks, More or Less
12. In Times Like These, Films of Ideas
Epilogue, "Over The Rainbow", 1939: The Best of Everything—Almost
Bibliography
Index