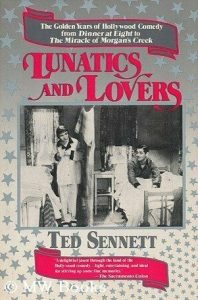 LUNATICS AND LOVERS, A TRIBUTE TO THE GIDDY AND GLITTERING ERA OF THE SCREEN'S "SCREWBALL" AND ROMANTIC COMEDIES (1973) Ted Sennett
An excursion through the world of the screen comedies about love, marriage, and everyday life that were produced in the thirties and early forties.
Judicial ruling from Midnight : "It's permissible for a wife to be beaten, as long as she's struck not more than nine times with an instrument not larger than a broomstick". Dr. Spock, a la Bachelor Mother: "Place oatmeal on a piece of gauze and rub it into the baby's navel". Delicious character actors: Eve Arden dispensing acid like wine to the fools she was obliged to tolerate … Robert Benchley, forever genial, hopeful, and vague … Franklin Pangborn, always on the verge of collapse – Helen Broderick, matron of the cynical eye – Eugene Pallette, all bombast and bluster.
Gold digger's lament: "It's so hard to be good under the capitalistic system" Glenda Farrell, Gold Diggers of 1937.
Did Dorothy Parker contribute to Twentieth Century?
The Automat scene in Easy Living. Fifth Avenue Girl philosophy: "I guess rich people are only poor people with money".
Irene Dunne and Cary Grant fight against acting in The Awful Truth.
Remember Mickey Rooney as an urchin in Live, Love and Learn (1937).
The curious turn of events in Bluebeard's Eighth Wife.
Tay Garnett's Eternally Yours—the first film centered around the New York World's Fair.
Alfred Hitchcock as farce-maker.
Woman of the Year —delightful launching pad for the team of Tracy & Hepburn
Capra makes Mr. Deeds Goes to Town in spite of von Sternberg's and B.P. Schulberg's advice. Little-remembered ancestor of Mr. Deeds: The Cat's Paw (with Harold Lloyd).
The harsh humor of The Whole Town's Talking.
Remembered fondly: Charles Laughton's recitation of the Gettysburg Address in Ruggles of Red Gap "A young patriot turned loose on our nation's capital—I can handle him".
Mr. Smith Goes to Washington. Joe Kennedy urges Columbia to drop Mr. Smith Goes to Washington.
The Thin Man school of lighthearted detective stories: the Sloanes, the Bradfords, the Reardons the Troys.
That rising young comic, Bob Hope, in melodrama comedies: The Cat and the Canary and The Ghost Busters.
"Women should be illiterate and clean, like canaries" Roscoe Karns in Woman of the Year.
Anti-woman's lib pix: "Your kind of boss-woman needs a boss-man" Honeymoon in Bali.
"A career leaves you empty. Do something really important." She Married Her Boss
"If you didn't have graft, you'd have a lower level of people in politics" The Great McGinty
(Book Cover)
TABLE OF CONTENTS
Acknowledgements
Chapter One: A World of Lunatics and Lovers
Chapter Two: The Cinderella Syndrome
Chapter Three: Wife, Husband, Friend, Secretary
Chapter Four: Poor Little Rich Girls (and Boys)
Chapter Five: Lamb Bites Wolf
Chapter Six: Bats in Their Belfry
Chapter Seven: The Thin Man, Topper, and Friends
Chapter Eight: Boss-Ladies and Other Liberated Types
Chapter Nine: The Amazing Mr. Sturges
Chapter Ten: Stage to Screen
Postscript
Appendix I: The Players
Appendix II: The Directors
Appendix III: The Writers
Filmography
Bibliography
Index