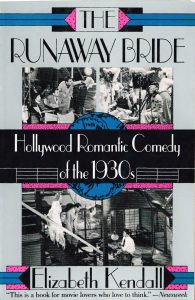 THE RUNAWAY BRIDE, HOLLYWOOD ROMANTIC COMEDY IN THE 1930s (1990) Elizabeth Kendall
In the 1934 classic It Happened One Night, heiress Claudette Colbert races away from the altar and a conventional marriage and throws herself into a wisecracking rough-and-tumble affair with Clark Gable. The new brand of movies following in the wake of Capra's kooky masterpiece-and the women starring in them-are the focus of Kendall's The Runaway Bride, a look at the films that mirrored the climate of the Great Depression while at the same time helping Americans get through it. Kendall details the collaborations between the romantic comedy directors and the female stars, showing how such films as Alice Adams (with Katherine Hepburn), Swing Time (where Ginger Rogers enjoys "A Fine Romance" with Fred Astaire),
The Awful Truth (with Irene Dunne), and The Lady Eve (wherein Barbara Stanwyck's shapely leg repeatedly trips naïve millionaire Henry Fonda) came to be, and what they said about the 1930s. Written with erudition and enthusiasm, The Runaway Bride is a trip through some of Hollywood's most memorable moments, and a key to the national issues of an era as revealed in its films.
Written with erudition, insight, and enthusiasm, The Runaway Bride is a brilliant mix of film and social history that renews our vision and broadens our understanding of some of the best-loved movies ever made, and the complex, Depression-influenced circumstances from which they were born.
Both film and social history, Elizabeth Kendall's Runaway Bride studies the birth and development of the Depression-era romantic comedy and the changing roles of women within it. Through colorful anecdotes and lively prose, Kendall shows how the changing social mores of the 1930s created the need for stronger, more dynamic leading ladies like Claudette Colbert, Katharine Hepburn, and Ginger Rogers. Working with innovative directors such as Frank Capra and Preston Sturges, these women created characters who were tough, independent, witty and, in a new way, pivotal to the action and emotion on the screen. (Book Cover)
TABLE OF CONTENTS
Dedication
Acknowledgements
Capra And Stanwyck:

Ladies of Leisure

Capra And Colbert:

It Happened One Night

Romantic Comedy Settles In

Stevens And Hepburn:

Alice Adams

Stevens And Rogers:

Swing Time

Capra And Arthur:

Mr. Deeds Goes To Town

La Cava and Lombard:

My Man Godfrey

La Cava, Rogers, And Hepburn:

Stage Door

McCarey And Dunne:

The Awful Truth

McCarey, Stevens, and Dunne:

Love Affair

and

Penny Serenade

Sturges, Stanwyck, and Colbert:

The Lady Eve

and

The Palm Beach Story
Conclusion
Sources
Notes
Bibliography
Index